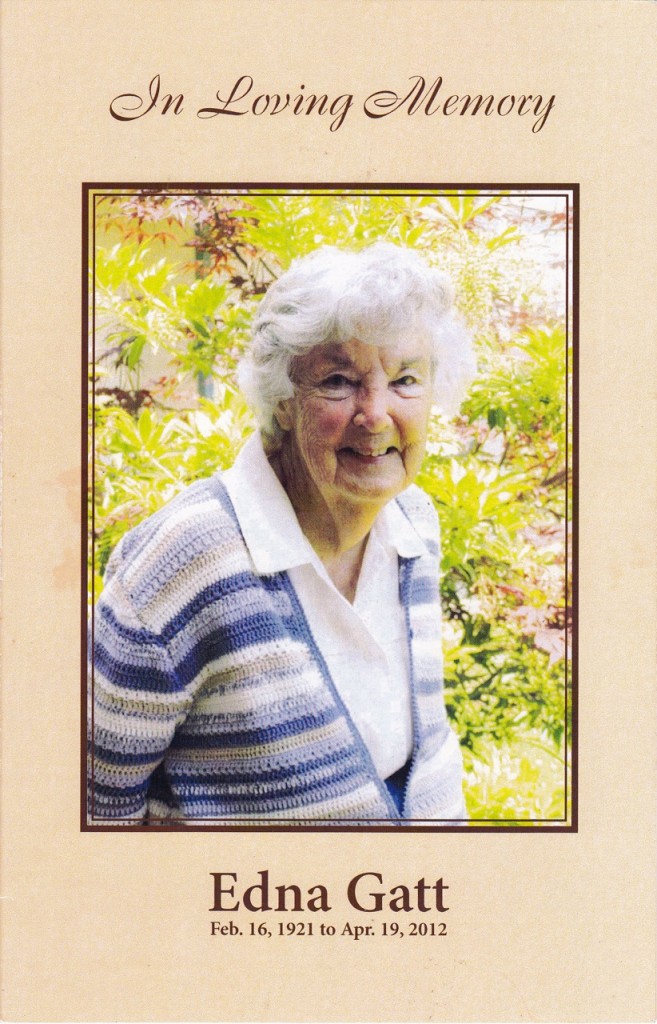 From Edna's Daughters
Unfortunately, we don't have any information about our Grandfathers grafting to pass on. His passion for apples seemed to have passed on a life long love of apples to our Mum. I think that her favourite apple was the Cox's Orange Pippin. She looked forward to apple season every year, and savoured apples as her dessert most evenings. She loved making the trip to the apple orchards, and also had the owner of the fish shop in Ganges kindly bringing in apples for her to pick up at the fish shop. She always loved that about Salt Spring Island, that people would network on the island ! We laughed about the time she picked up her Thanksgiving turkey at the visitors bureau !
The woman in the Black Jacket inside the apple display is Edna watching over the apples at Fulford Hall, during Apple Festival.
From Harry Burton, organizer of the Apple Festival
1)  Edna was always available to help, whenever she was asked and she did every job with a smile.  This one job, we always laughed together about for years after.
One year, I had 2 ladies who needed a ride around to all the Apple Festival farms.  So I asked Edna.  She agreed.  Unfortunately, I never thought about how these ladies would match up.  One was a very conservative military officer's wife from Victoria.  The other was an old hippy artist from Salt Spring.  Well most of Edna's day was spent  keeping these 2 old ladies from tearing each other apart as they disagreed about everything. Both were also very outspoken.
That incident gave Edna and I something to laugh about for years.
2)  Edna also was my "Salt Spring Aunt".  She told me one day that her maiden name was Burton, the same as mine.  So I asked her if she would be my Salt Spring Aunt.  From that day on, she was always  AUNT EDNA.