Salt Spring Apple Festival 2013 poster (12 by 18 inches) – $5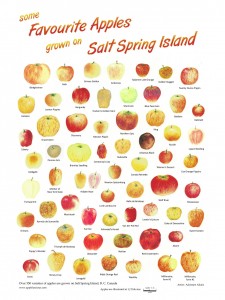 Favourite Apples of Salt Spring. – $15
A CELEBRATION OF THE APPLE DIVERSITY OF SALT SPRING ISLAND, BC.
This beautiful poster features 60 of the favourite apple grown on Salt Spring Island, as selected by the growers here.
Posters are 18 by 24 inches, on a very high quality, gloss paper. They look great.
These apples are all hand painted by Adrienne Aikens, a Victoria watercolour artist, painting while holding the apple in her hand.All apples are shown at 50% of scale.