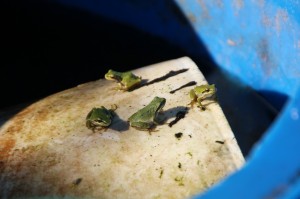 Nearing the end of this very dry summer, I have noticed that the tree frogs have loved being in our water barrels scattered throughout the orchard. In the photo below, there were 5 in this barrel, and so when I was filling the barrel, they hopped onto this pail that was slowly turning in the barrel. It was like a little revolving island. The barrel is their little oasis of dampness in a very dry orchard. They do prefer, the barrel to be lest than half full, as it gives them more protection and more hiding space. So I try to only fill to half to keep them happy.
From stats, it appears that we have only had 1.5 mm of rain since Aug 1. Very dry. I am still watering my newly planted (in March 2012) 1 year old apple trees, THAT IS NOT NORMAL.
Usually when we hit September, they are on their own, as it is cooling down and also, there is some rain. Apparently Port Alberni, BC, had the highest temperature in Canada today. Amazing.