A CELEBRATION OF THE APPLE DIVERSITY OF SALT SPRING ISLAND, BC- – The Salt Spring Island Apple Festival Poster.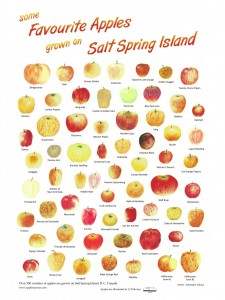 This beautiful poster features 60 of the favourite apple grown on Salt Spring Island, as selected by the growers here.
These apples are all hand painted by Adrienne Aikens, a Victoria watercolour artist, painting while holding the apple in her hand.
All apples are shown at 50% of scale, Posters are $20 each and optimum shipping would be in groups of 10 as that reduces shipping costs to $2 each.
Apple Festival paid the artist $500 to do the poster and then paid for the cost of printing the poster.
We are going to reimburse the Apple Festival only for the cost of printing and then all money will flow to the artist, who indicates that she will direct it to a charity of her choice.